Welcome to the Castle!

Surrounded by a spruce and birch forest, the custom designed and built guesthouse offers privacy and yet is convenient to the village of Talkeetna.
Nearby trails can be hiked, biked or skied, and local lakes are perfect for canoeing swimming and lake fishing. A large front lawn is big enough for tents, or a picnic outside.
Owner built, master craftsman
5 miles from downtown Talkeetna
Quite and private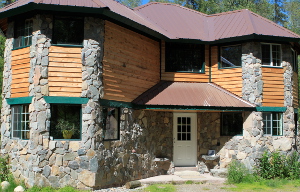 The Castle is one half mile from Out of the Wild Inn and can be rented separate or in conjunction with those accommodations for larger gatherings.
Address: 22223 S. Hancock Street.